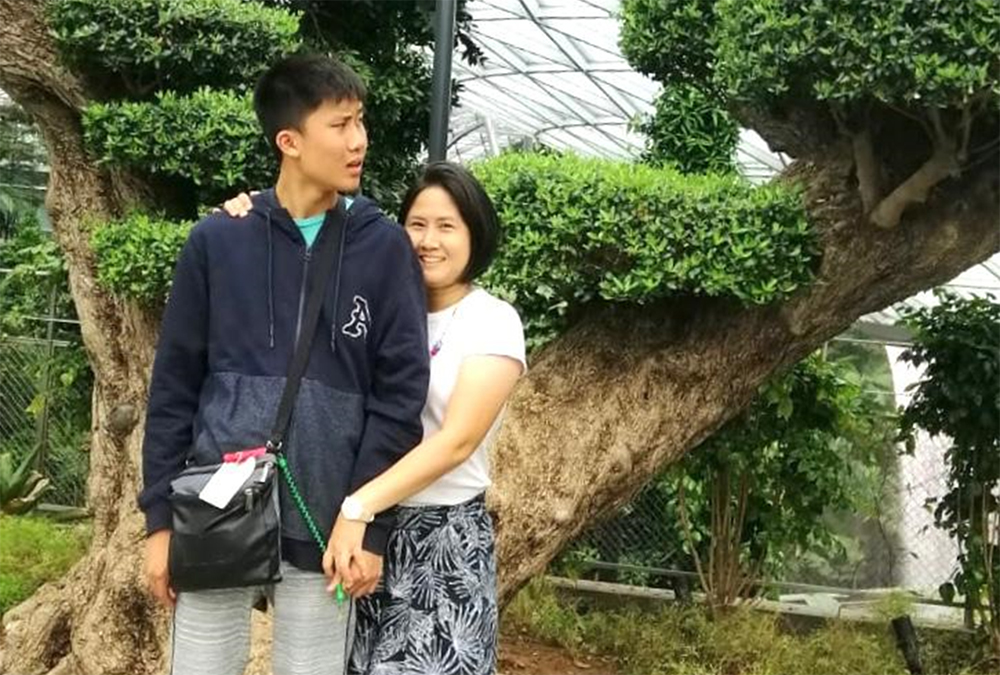 "I was sad for a while, but my personality is that I can 'detach' because sadness gets you nowhere; sadness is stagnant. I'm not saying you shouldn't be sad. But you should also need to prioritise when to move on. When you're resting, then you can grieve."
– Wei Ping, mother of Yang, her 18-year-old son with autism
---
Walking through Wei Ping's story as she shared over coffee, was like experiencing the dramatic highs and lows of a caregiver's emotional journey.
When Yang was a baby, she realised he needed more attention to interact with her, and took 3 months of leave to spend time with him. She read about floor therapy and purchased a thin mattress to do 20 minutes of floor time with him a day, adding that eye contact only came at the end of 4 months. He also had seizures at 1 years old and was diagnosed with ASD at a very young age.
"He will sit in the corner for hours. He won't go out of his comfort zone circumference to get a toy just out of his reach. He'll flap hands and exhibit classic ASD behaviour."
Wei Ping went to the internet to search for any information that could help him, including putting him on a GFCF diet to reduce his seizures.
"I went to the world wide web and read until my eyes popped out. I was desperate to know.
I mean, it's just my personality. I will ask questions, what GFCF is about. Taking milk was a big issue for him so he had diarrhea and constipation all his life since he was born."
Along the way, she picked up information about vestibular, tactile activities via occupational therapy, read about supplements, and borrowed books from parents who were able to afford and purchase books on autism and diets. She wanted to understand the principles of how to help autistic kids holistically, and how to apply what she learnt to support Yang's daily routines.
"My son was so rigid that everything little thing will trigger him. When he had afternoon nap, he wouldn't sleep until 3-4am. However, I was young then and had energy to sleep late. Hence, I would read a lot at night, and do mind mapping (of how to help Yang)."
Another challenge was Yang's aggressive response to sensory challenges. Wei Ping used to get scratches where her skin was not covered when Yang had a meltdown. When Wei Ping and family moved back to Singapore from the US, the environment was generally noisier. Even the sound of birds chirping or crickets in the park could trigger panic in Yang.
"He's very sensory. Cannot touch sand, cut fingernails, cut hair, shower. Neighbourhood hair stylists didn't want to cut his hair. He also had his ears cut before. But now he's better. He tolerates the process."
He also didn't eat very much until he was 12. Mealtime was a fight and he would only eat 2 mouthfuls of her homecooked food in school, refusing to eat anything else.
She enrolled Yang in occupational therapy (OT) but found it was expensive. To save costs, she tried to learn as much and do the OT with her son at home or at the playground such as the sandpit. To further support Yang, Wei Ping also found two therapists who came to her house thrice a week to do ABA, which she found helpful for her son's development.
Although Yang attended Rainbow Centre and Wei Ping felt the teachers were good, she felt he was not suitable in a big school and decided to enrol him in a smaller private school after a few years. She also tried speech therapy, however she withdrew him as she felt he was not ready yet. Subsequently she restarted speech therapy when he was 13 years old.
"There's a time for everything. Parents may feel that a particular therapy is no good because you did not meet a suitable therapist. Or maybe at that point of time, your child is not ready. Although Yang was not ready for speech therapy as a child, I could see he wanted to speak when he turned 13. He's quite attentive now. His diction improved, and he can speak."
Training Yang in life skills
In the past, Yang used to be so rigid that if he and Wei Ping walked to his grandma's house and deviated slightly from the usual route (such as walking round the other side of the pillar), he would have a meltdown.
If he was sitting in the car driven by Wei Ping, he would insist that his mum park at the same parking lot every day, and she could not brake suddenly or it would trigger his anxiety. For example, once when Wei Ping had to suddenly break at a red light, Yang panicked and threw a toy at the windscreen ("Luckily it didn't break!").
Wei Ping worried that her son would continue to throw tantrums as a teenager, so from 4 years old she started his "training" of basic rules he needed to know, and life skills he needed to possess.
"You cannot control every single thing in your kid's life. Just choose top 3 priority areas, pick your battles. For everything else, either redirect or look into it at a later date. The areas will change as your child grows."
"When I was training flexibility in the route from my house to grandma's house, I tried one new route, and when he's 70% there (being able to accept the new route), I start on another new route. I also expanded his exposure to different ambient noises such as a baby crying, a bus going past."
She would use off peak periods such as mid-afternoons to take Yang out just to train him to walk to the nearby shopping mall or go to the airport. She trained him to walk beside her without having to hold his hand, allowing him to go wherever he wanted, as long as he walked beside her.
She taught him how to take the MRT first, then subsequently the bus much later.
"Training tolerance of MRT: take one stop from Simei to Tampines and come back. Then slowly expand to going to Tampines Mall, walking one round and coming back. It could sometimes take years to train a route."
She also trained him in being patient, such asking him to wait until she finished eating at the coffee shop before buying him a drink. While waiting, he would have a watch and a fidget cube to help him pass the time, and she would then deliver his promised reward.
By building trust with him, and fulfilling what she has promised him, she helped him work on expanding his tolerance and understanding.
Due to Wei Ping's relentless efforts at exposing Yang to different activities, Yang has tried farm skills at a hydroponics farm, soccer, and also going on stand-up paddling excursions at sea.
At night, she would reflect on her day, recap what happened, and do an after-action review (such as what went well, what didn't go so well, what she could have improved) on the incidences that happened during the day.
"I would think of what to do differently and develop Plan A and Plan B if the incidence happens again. I visualize what could happen and use trial and error. If both plan A and B don't work, it's back to the drawing block. The analysing is very important. Sometimes it's not that the Plan A didn't work, but it was the first time you tried it, and it needs more time as you cannot see immediate results."
From her long journey, she knows how clueless and scared new caregivers are, even when surrounded by more awareness and information on special needs.
"Too much knowledge is overpowering. Parents don't understand, or they feel overwhelmed, or they are very very busy."
Because of what she went through, she decided to set up Shoulders, a support group for caregivers to share information relevant to other caregivers, so that they wouldn't have to struggle to find the right information like how she struggled in the past, trying to read everything she could find and figuring out what works.
About Lim Wei Ping and Shoulders Support Group:
Lim Wei Ping is a special mum to her only son, Yang. She quit her job when he was a child to care for him full-time. In 2010, she set up Shoulders support group to share information and resources useful for special needs caregivers. She also founded YoungstarSG, a community initiative and social enterprise, to provide home-based work for teens and adults with autism, in 2018.
To be updated on CaringSG's latest events and join your preferred caregiver support groups in our CaringSG Alliance Network (CAN), sign up as a CaringSG member and let us know your preference!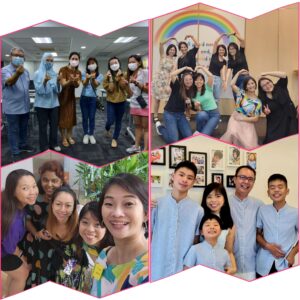 Many caregivers have had our fair shares of emotional coaster rides. A simple act of joining a mother's network group opened my eyes.
Read More »