CaringSG held its first i care! Charity Gala Dinner on 25 March 2023, 6:30-9:30 pm, at Carlton Hotel (Bras Basah) to raise funds to continue supporting special needs caregivers.
Generous donations from our Charity Auction enabled CaringSG to meet our gala dinner fundraising target of $250,000. With support from the Toteboard Enhanced Fundraising programme, we aim to raise a total of $500,000 from this i care! Campaign.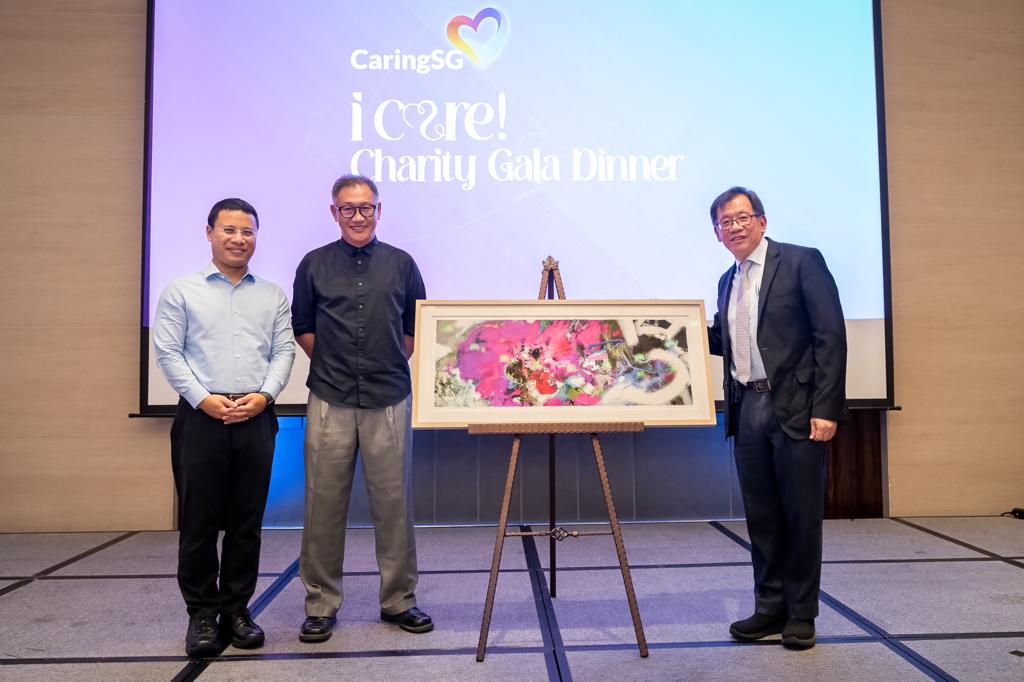 In the months leading up to our gala dinner, we held a silent charity auction for six artworks that were kindly donated by three art donors, Mdm Chia Choy Ping, Mr Yang Tien and Mdm Lim Keok Bee. All six artworks had generous bids and we displayed the artworks during the gala dinner for guests to appreciate and meet the artists.
During the dinner, our Guest-of-Honour, Minister Desmond Lee, announced that our CAREkaki programme and CAREconnect physical events would be scaled up to three more districts – Nanyang, Telok Blangah, and Bukit Batok East, on top of the two areas – Boon Lay and Kampong Glam – that CaringSG had already piloted our programmes in.
CaringSG Board Chair Dr Lim Hong Huay also announced that CaringSG would be launching the STEP ONE programme, a training and support program for new caregivers of young children with developmental needs, in July 2023. Funded by SG Enable, CaringSG aimed to reach 400 caregivers in 1 year. In November's caregiver month, we would be collaborating with the Agency for Integrated Care, the National Council of Social Service and SG Enable to organise a National CAREcarnival and Conference too.
Other distinguished guests at CaringSG's i care! Charity Gala Dinner included:
Ms Denise Phua, Mayor, Central Singapore District; and MP, Kampong Glam, Jalan Besar GRC
Mdm Rahayu Mahzam, Senior Parliamentary Secretary, Ministry of Health & Ministry of Law; and MP, Bukit Batok East, Jurong GRC
Ms Rachel Ong, MP , Telok Blangah, West Coast GRC
Dr Gerard Ee, Chairman, Charity Council and Agency for Integrated Care
Before the dinner started, guests were treated to a piano recital by Dr Patrick Ang Cheng Ho in the gallery.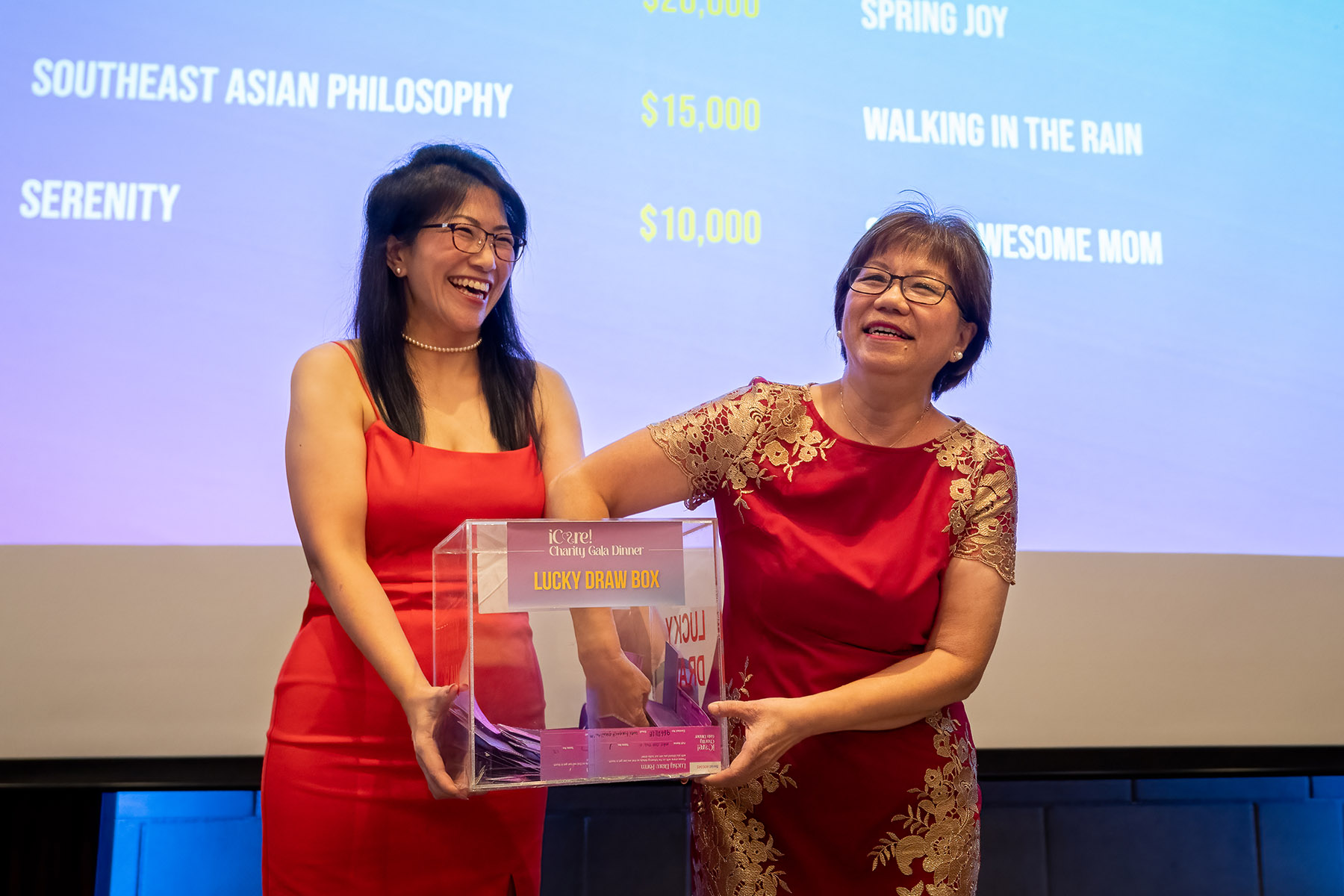 While the sumptuous dinner was served to the guests, they were delighted by a choir performance by Very Special Choir, a guitar duet by Dr Stephen Chew Tec Huan and Mr Gerald Ong Hoon Hwa, a vocal solo performance by Ms Marianne Leong Jia Ern, and a Gu Zheng and piano duet by Ms Fernanda Wee Wei Xuan and Mr Mark Sim.
We are deeply grateful towards our Guest-of-Honour Minister Desmond Lee, distinguished guests, generous donors, talented performers, CaringSG Board, staff, volunteers, and supporters who made our charity gala dinner a successful event.
Media coverage of the announcements:
Art Donors:
Mdm Chia Choy Ping is a freelance painter who has been painting as a hobby since she was young. She donated three artworks: Spring Joy, Walking In The Rain, and Serenity.
Mr Yang Tien has a Master of Fine Arts (Academy of Art University, San Francisco). Previously under tutelage of renowned artists, he was one of the early artists that adopted digital media as the medium of choice for his creative works. He donated two artworks: South East Asian Philosophy and Lakeside Lover's Jazz.
Mdm Lim Keok Bee is a caregiver, special needs art teacher and clay artist. Previously she was a dentist in Singapore. She donated one artwork, a sculpture titled Super Awesome Mom.
Programme Highlights:
Piano recital in gallery by Dr Patrick Ang Cheng Ho, Head of Interventional Cardiology, Gleneagles JPMC Cardiac Centre. Head of Interventional Cardiology, Gleneagles JPMC Cardiac Centre. Dr Ang is currently a consultant cardiologist with Royal Healthcare and visiting consultant at National University Hospital. He has been playing the piano since the age of 6 and he has recorded 3 CDs to date which are available on YouTube.
Choir performance by Very Special Choir: 12 persons with disabilities chaperoned by 12 caregivers performed for the gala dinner guests
Guitar duet by:
Dr Stephen Chew Tec Huan, Renal physician, Mount Alvernia Hospital. Guitar was a recent interest and he learnt at Tomas Music School.
Mr Gerald Ong Hoon Hwa, Age 70yrs, retired Project Manager for Power Cable Engineering Co. Guitar teacher, Tomas Music School
Vocal Solo Performance by Ms Marianne Leong Jia Ern, winner of multiple international awards, including 1st prize for the Golden Classical Music Awards International Competition (2022) and the International Music Competition "Rome" Grand Prize Virtuoso (2021), and also won top prizes in the International music competition "The Art of Art" and " The Art of Opera" (2021) and the North International music competition (2021). Marianne has Autism and she graduated from Pathlight Secondary school in 2020. She is currently schooling at Nanyang Polytechnic.
Mr Bertrand Lee, piano accompaniment. Previously under the tutelage of Albert Tiu in the Yong Siew Toh Conservatory of Music whilst on full scholarship, Bertrand is now an accomplished concert pianist who performed extensively internationally and locally, and is also a music educator at Ms Khor's Studio.
Gu Zheng and Piano duet by:

Ms Fernanda Wee Wei Xuan, a graduate of Sichuan Conservatory of Music, majoring in Guzheng performance under the tutelage of Professor Lin Yi. She is also a passionate music educator who hopes to inspire future music makers. Fernanda is a caregiver to a brother with Down Syndrome and Autism.
Mr Mark Sim, Senior Piano Teacher. Graduated from Singapore Raffles Music College with a Master of Music (Distinction) awarded by the University of West London. Like Fernanda, he is also a passionate music educator who hopes to inspire future music makers. He has his own private teaching studio, is a Senior Teacher at Sunflower Piano House and is a lecturer at Singapore Raffles Music College.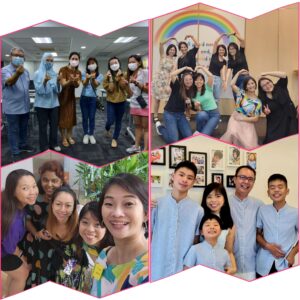 Many caregivers have had our fair shares of emotional coaster rides. A simple act of joining a mother's network group opened my eyes.
Read More »