Many special needs caregivers start off their journey feeling lost and lonely. They may not know who to turn to, what to do, and whether they can survive the road ahead.
Some have managed to find their own solutions, join a support group, gather resources, and thrive against the circumstances.
The founding of CaringSG is but one milestone in caregivers' collective journey towards a better future for themselves and their families, and the push towards a more inclusive Singapore.
When caregivers unite, when communities grow, beautiful things happen.
Join us at CaringSG to be part of our collective dream – to connect, enable and empower fellow special needs caregivers, build an inclusive community for special needs families, and transform innovative caregiving solutions into impactful reality.
To be updated on CaringSG's latest events and join your preferred caregiver support groups in our CaringSG Alliance Network (CAN), sign up as a CaringSG member and let us know your preference!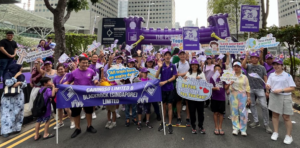 The Purple Parade 2023, held on November 4th, was a heartwarming celebration of inclusion and support for individuals with special needs, their caregivers, and supporters.
Read More »