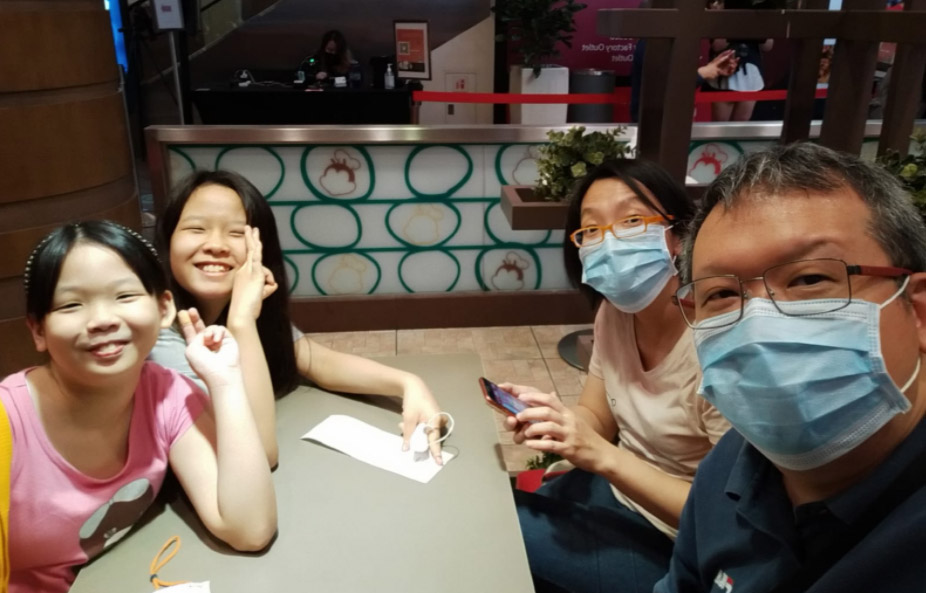 "Do you know what my nickname is?" said Edward Chan, a special dad to two autistic girls.
"I'm known as 'Kaypoh' (busybody)," he proudly shared over coffee with CaringSG.
Quitting his job to save his daughter
Edward was once an internal auditor, flying to various countries for auditing stints that often stretched for at least a month. But this meant that he had little time to look after his two daughters (Yan Ling, 13, and Yan Yun, 10, this year) who are both studying in Pathlight.
Several years ago, when Yan Ling was in Primary Two, she really missed her dad especially during his long overseas trips. She was also struggling with academics and felt so stuck that one day, she just decided to sleep during her entire Semestral Assessment 1 (aka mid-year examinations), hoping this would draw her dad's attention towards her.
It worked, and Edward quit his job to take on a local role which he thought would allow him to spend more time with her. However her progress was not consistent and his new job required him to burn weekends to clear projects. 
Taking advice from the psychologist and social worker that the parent who is closer to Yan Ling should spend more time with her, Edward decided to trade his full time job to become a Private Hire Driver so he had more flexibility.
During her Primary Three school holidays until today, he invested his newfound time to build up a routine and work closely with Yan Ling on improving the gaps she struggled with. She has progressed through her Foundation years and is taking PSLE this year.
Edward also finds time to volunteer with CASPER, organising talks for special needs families and participating in initiatives with other caregiver support groups, including joining CaringSG's CAREconnect volunteer team, earning him the nickname of 'Kaypoh', or someone who is a busybody.
Finding that he isn't alone
Although it seems like Edward has always been actively volunteering, it wasn't always this way.
When Yan Ling was first diagnosed with autism, he went through a period of denial.
"Denial will be there, it's just how long only. Don't blame yourself, and be frank with your family. Family support is very important," he advised caregivers who have just learnt their dependent has special needs. He and Beverly started their special needs journey without any support group at first, relying on his mother to help send Yan Ling to EIPIC intervention during her preschool years.
In 2013, a parent whom he knew asked him if he was attending a CASPER forum. Although he had heard about CASPER, he did not apply to join until this parent mentioned the forum.
"CASPER was set up in 2011 by special needs parents who were the first few batches to attend KKH's Signpost course. They got the support of KKH's Department of Child Development to start this support group, provide a venue, and speakers for talks for special needs parents," Edward said.
When he and Beverly registered and attended the forum, they realised they were not alone.
Edward greatly appreciated that the CASPER talks he attended also came with a parent Care and Share session, which he said helped him a lot especially hearing from other special needs parents how they lived their lives as caregivers.
In 2013, he was invited to join the core team, who wanted to bring more topics other than school readiness to special needs parents. Besides inviting several speakers outside KKH, CASPER connected with SG Enable in 2015. This partnership helped CASPER to link up with The Law Society of Singapore, which gave a pro bono talk on wills for caregivers.
CASPER continues to organise forums and share resources via its secret Facebook group. 
About CASPER
CASPER, a secret Facebook group, was created as a safe haven for all special needs caregivers to share information and thoughts. It works with the KKH Department of Child Development and other partners to run talks and activities for special needs children and their caregivers. 
About CAREconnect
Edward, who volunteers with CASPER, has also joined CaringSG as a CAREconnect lead. 
With his help, special needs caregivers can participate in our CAREconnect program jointly organised by CaringSG's caregiver and professional volunteers, which include: 
CAREconnect webinars, forums and respite events build your caregiving knowledge, skills and personal resilience. 

CAREconnect family activities help you bond with your child and other special needs families. 

CAREconnect social and inclusive activities connect you with other caregivers and your neighbourhood.
To be updated on CaringSG's latest events and join your preferred caregiver support groups in our CaringSG Alliance Network (CAN), sign up as a CaringSG member and let us know your preference!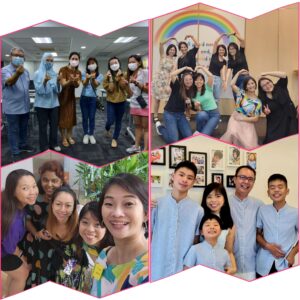 Many caregivers have had our fair shares of emotional coaster rides. A simple act of joining a mother's network group opened my eyes.
Read More »