SPEECH BY MR DESMOND LEE, MINISTER FOR NATIONAL DEVELOPMENT, MINISTER-IN-CHARGE OF SOCIAL SERVICES INTEGRATION, MP FOR WEST COAST GRC (BOON LAY), AT CARINGSG I CARE! GALA DINNER ON 25 MARCH 2023, SATURDAY, 9.00PM AT CARLTON HOTEL.
Dr Lim Hong Huay, Chairman of CaringSG
Parliamentary colleagues, Mayor Denise Phua, Senior Parl Sec Ms Rahayu Mahzam and Ms Rachel Ong
Dr Gerard Ee, Chairman of the Charity Council and Agency for Integrated Care
Board members and advisors of CaringSG
Distinguished guests, colleagues,
Ladies and Gentlemen,
1. Good evening.
2. It is a great pleasure to be among partners, volunteers and well-wishers who are passionate about supporting caregivers in our community.
3. Caregivers are the first line of support for their loved ones.
4. They are the unsung heroes – devoting their time, energy and attention towards caring for their loved ones, without asking for anything in return. But often, sacrificing many of their own life goals.
5.The 2018 Quality of Life (QOL) of Caregivers Study conducted by the National Council of Social Service (NCSS) showed that caregivers took pride in caring for their loved ones and understood the importance of their role.
6. Yet even the strongest individuals need support.
7. More than one in two caregivers surveyed in the study reported that they were "burdened" or "barely coping" and almost half were journeying alone in their caregiving responsibilities.
8. Caregivers need a strong support ecosystem to relieve some of their burden, and help them sustain.
9. Over the years, the Government has enhanced our support for our caregivers, with a range of initiatives under the Caregiver Support Action Plan and the White Paper on Women's Development.
10. We will also provide more help to ease caregiving costs, with an enhanced Home Caregiving Grant in 2023.
11. Strengthening families is a whole-of-society effort.
12. I am encouraged to see strong community support arising from the work of the Alliance for Action (AfA) for Caregivers of Persons with Disabilities, which is spearheaded by NCSS and SG Enable.
13. One of the projects supported by the AfA is Project 3i, CaringSG's very first initiative, which aims to strengthen community support for caregivers of persons with disabilities and special needs.
14. Project 3i's programmes – CAREconnect, CAREbuddy and CAREwell – focus on building a community of support around caregivers, and equipping them with caregiving knowledge and skills.
15. I am very glad to learn about the progress of Project 3i since I attended its launch just over a year ago.
16. Let me share a little more about CAREconnect today.
17. CAREconnect aims to make caregiving a less lonely journey:
a. Caregivers are connected to a support group, where they can receive support and care from fellow caregivers.
b. In addition, they pick up caregiving knowledge and skills through physical forums, webinars, and online resources organised and developed by CaringSG.
18. To date, CAREconnect has reached out to 2,800 caregivers through its events and connected 1,200 caregivers to support groups.
19. These numbers show that the efforts are bearing fruit, and the good news is that we have more hands on deck to help grow the network.
20. CAREconnect brings onboard grassroot volunteers and leaders as CAREkakis, training them to give better support and interact with caregivers and families of persons with disabilities and special needs.
21. CAREkakis & CaringSG volunteers also go on home visits, organise inclusive community events, and form workgroups to develop longer term community plans to support vulnerable caregivers.
22. CAREkaki training has been piloted in two areas – Boon Lay and Kampong Glam.
23. Today, I am happy to announce that the CAREkaki programme and CAREconnect physical events will be scaled up to three more districts – Nanyang, Telok Blangah, and Bukit Batok East.
24. These achievements by CaringSG are only possible because everyone here has put in so much commitment and energy.
25. Many of you are also caregivers. My deepest appreciation to all of you who have been involved in sharing your time and expertise to uplift the lives of caregivers in their journey. You embody the SG Cares spirit.
26. We have also been engaging a broad range of Singaporeans as part of the Forward SG exercise, and have heard many speak of their desire to forge an inclusive and caring Singapore. I am glad to see this strong desire to give back.
27. As we continue to refresh our social compact, and in the spirit of the Year of Celebrating Social Service Partners, I look forward to stronger partnerships among all our important stakeholders and volunteers in the years to come.
28. Thank you.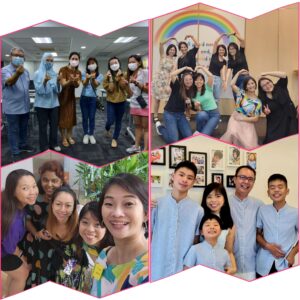 Many caregivers have had our fair shares of emotional coaster rides. A simple act of joining a mother's network group opened my eyes.
Read More »