Many of us, as caregivers, have had our fair shares of emotional coaster rides.
As a working mother of 3 boys, my second son was diagnosed with moderate autism when he was 3 years old. Since then, I have been on a journey of discovery, learning, coping with feelings of disappointment, denial, anger, hope and many more. In the initial stages, I remembered vividly the loneliness and helplessness, often taking the easy way out of putting the blame on "fate".  For a long time, I did not know how to process my emotions.
A simple act of joining a mother's network group organised by my son's pre-school opened my eyes. For the first time, I felt that I was not alone. There were other parents, struggling and learning just like me. I saw the challenges they faced and the fighting spirit in each of them, driven by the love for their children. I learned from them that only through acceptance, would I be able to give my son the support he needed. The sharing opened my heart, and the empathy and listening ears from them gave me courage to go on with the demands of daily life.
This is exactly why, when I met Dr Lim Hong Huay through my husband 2 years ago and knew about CaringSG, I offered to be a volunteer as I was inspired by CaringSG's vision. Before volunteering at CaringSG, I had limited knowledge of the challenges and difficulties of caregivers, especially adult PWDs in Singapore.
I started as a CAREconnect lead with a rudimentary understanding that "I will do outreach and call caregivers for events." Then, this role was to me was a simple connecting of people together and providing them the opportunity to form a network of support. I thought I was contributing to help, but little did I realise how it would benefit and enrich me too!
In the 2 years with CaringSG, I have always been supported by the lovely folks of CaringSG and feel very welcomed. It was fun to plan the events with the CAREkakis, CAREchampions and the Grassroots leaders. It was very rewarding to get to know caregivers through the activities.
At the beginning, when my calls or follow-ups to caregivers were met with silence, I was disappointed and even felt it hilarious when I was suspected as a scammer (LOL!). The silver lining came when caregivers acknowledged my messages and actually took the effort to show up. Slowly, some caregivers shared photos of their children spontaneously, and sent words of appreciation and greetings that I never expected. My moment of glory came when one of the photos I took for a CaringSG event was featured in The Straits Times! 😊
I benefitted personally with the strong network in CaringSG. Last year, my son started displaying aggressive behaviour as he entered teenagehood. I was disheartened with my inability to handle his meltdowns and outbursts. This, to an extent, affected me at work too. Fellow caregiver Edward Chan and Dr Lim gave me contacts to seek professional help for him, and since then, he has improved and so has my quality of life.
As caregivers of PWDs, we have a lot to offer and to share in our experiences, especially to younger parents who are going through this journey and do not know what to do or where to seek support. 
To my fellow caregivers, instead of passively waiting for things to get better, step forward to give and you will be rewarded with the least expected.
"Those who bring sunshine to the lives of others, cannot keep it from themselves" ~James Matthew Barrie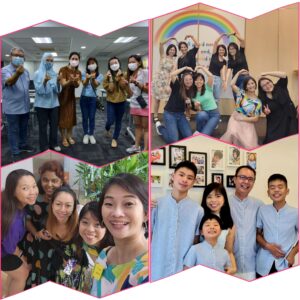 Many caregivers have had our fair shares of emotional coaster rides. A simple act of joining a mother's network group opened my eyes.
Read More »