Good Afternoon. Thank you for joining us at this official launch of CaringSG and Project 3i.
Your presence is great encouragement to the CaringSG team and all the caregivers. The same goes to all the partners and allies who are joining us on Facebook Live today, thank you for your unwavering support!
CaringSG is born in 2020 out of 3 things.
First, the fire of the COVID pandemic.
The circuit breaker last year cut many special needs families off from mainstream services. Many suffered in the isolation. Surprisingly, we saw caregiver groups and the community rallied together to reach out and help each other. When the going gets tough, the tough gets going. Many of the Caregiver groups in CaringSG's founding community have been around for years. But the pandemic makes us realise one thing, that is, TOGETHER, we can do so much more.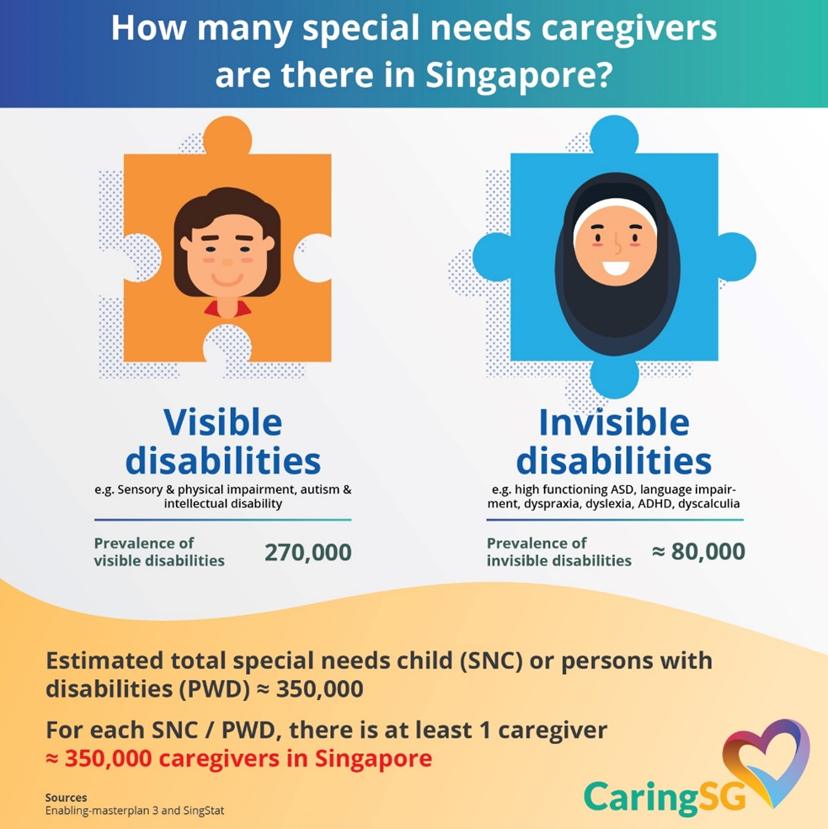 Secondly, CaringSG is here because of the many helping hands in Singapore.
Many of us, including myself, will not be here today, if not for all the special needs services that supported our children and families all these years. Since CaringSG's inception, we have also received much guidance and support from the Ministry of Social and Family Development, the SG Enable, the National Council of Social Service, our Angel donors, community partners and professional allies. We hope to work with you more closely in future for greater 3P partnership.
Last but not least, CaringSG comes from the hearts of caregivers. Through caregiving, many of us have gained a very strong and big heart. It's estimated that there are 350,000 special needs caregivers in Singapore and we are a multi-talented community. Many of us can give back in many ways. Hence our logo of a multi-coloured heart with a tick. CaringSG wants to grow more strong and big-hearted caregivers, so that our talents can contribute to building a caring and inclusive Singapore.
So here we are today, CaringSG, by Caregivers, for Caregivers, and for the Community.
Caregivers are very busy people. If we do not have a good plan, we would not have come this far. Project 3i is this good plan we believe in and come this far for.
We want to specially thank our CaringSG's founding donors, the Toteboard Enabling Lives Initiatives, the Temasek Foundation, the SG Enable, and the National Council of Social Service for jointly funding Project 3i. Thank you for believing in CaringSG and Project 3i.
In the next 2 years, CaringSG will pilot our 3i Caregiver support service model.
3i stands for integrative, individualised and intentional
Integrative for social-health integration through a bio-psycho-social and ecological approach
Individualised for services that meets the unique needs of caregivers, families and the community
Intentional for our focus in synergising with existing services for greater social impact.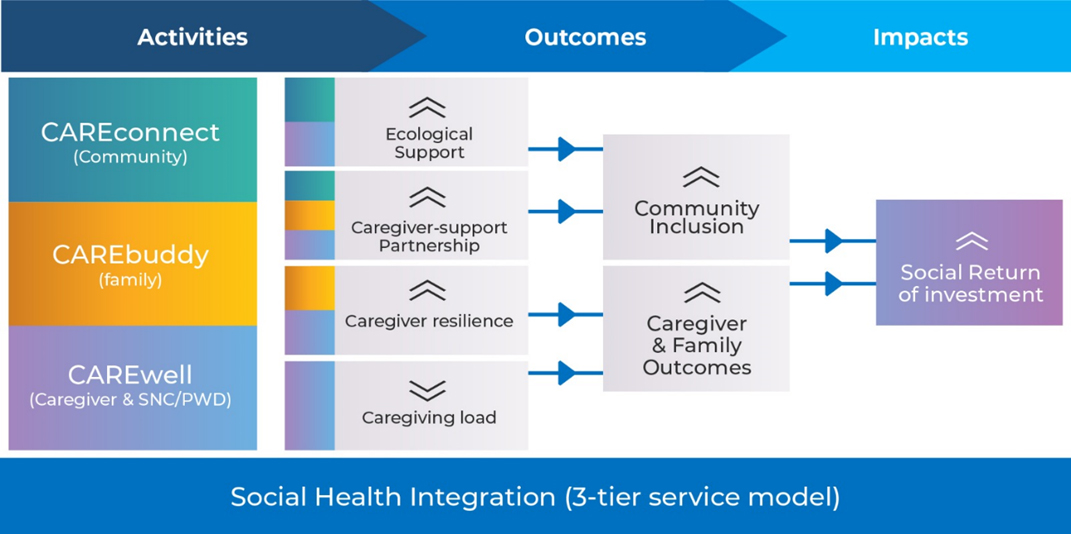 The 3i model consists of 3 programs, and they are the CAREconnect, the CAREbuddy and the CAREwell programs. Together, the 3 programs form a continuum of support for caregivers across lifespan.
Notably, the CAREconnect program includes a unique grassroot training and collaboration, called the CAREkaki program. This will be implemented in Boon Lay and Kampong Glam in 2022, followed by another 2 constituencies in 2023.
The CAREbuddy program trains caregivers, whom we call as CAREbuddy, to support another caregiver through peer mentorship.
CAREwell will also collaborate with key community partners to bring more inclusive services to the special needs families. For example, we are collaborating with the Mount Alvernia Outreach Clinic to offer affordable inclusive medical and dental services for caregivers and their children. We will also be piloting Community Circles with the Institute of Policy Studies to improve community support for caregivers.
CaringSG has also borne other early fruits, including the formation of the CAREcottage, a community of home and small businesses started by caregivers for their children, such as Beads by Beads, Crunchy Teeth, Evol Studio, JojoMama, Mustard Tree and Young Star SG.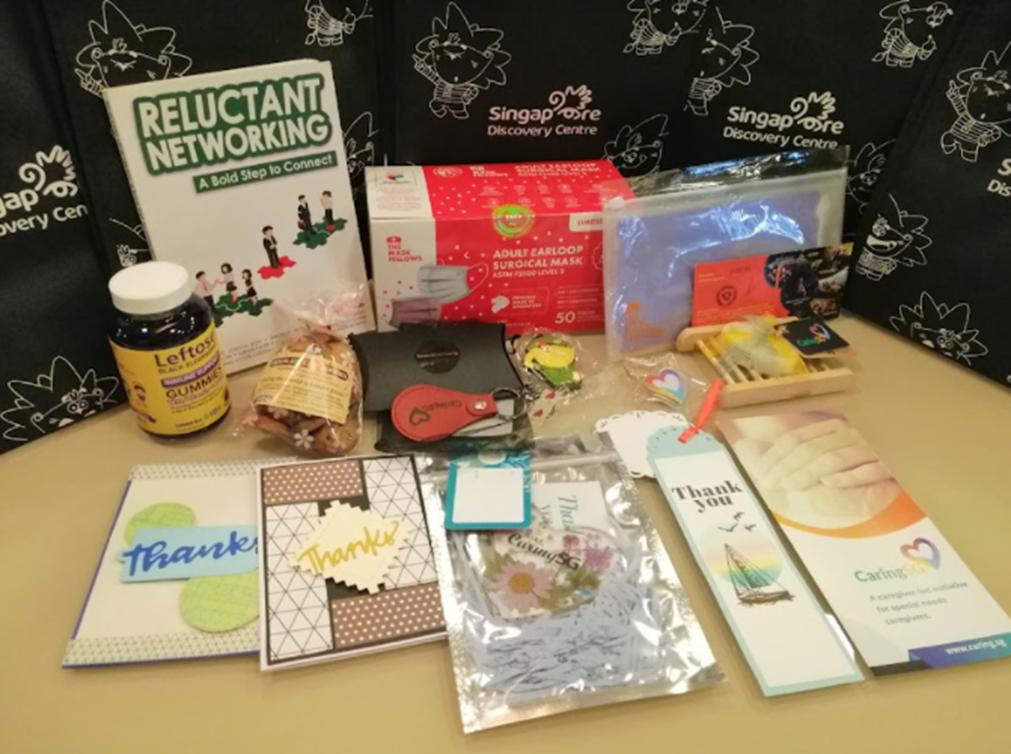 Lastly, to celebrate our launch, we will bring care and fun to special needs families in Boon Lay and Kampong Glam in the coming weeks.
The CAREkaki will be distributing goodie bags to 60 special needs families, which has gifts from CaringSG's caregiver sponsors, $30 vouchers from the Singapore Discovery Center, and surgical masks from the Mask Fellows. A special thank you to our sponsors, the Singapore Discovery Center and the Mask Fellows for your generosity, and our Fantastic CAREkakis for your labour of love.
This will certainly not be the last, but the beginning of all good things that will come with CaringSG and Project 3i for caregivers in Singapore.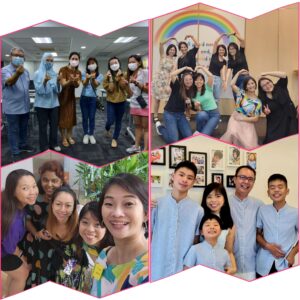 Many caregivers have had our fair shares of emotional coaster rides. A simple act of joining a mother's network group opened my eyes.
Read More »